About Riber
Compound semiconductors
Riber operates in a specific domain: we are experts in Molecular Beam Epitaxy (MBE), a technique which is used to grow compound semiconductors, and we provide Innovative Solutions for Semiconductor Industry.
Compound semiconductors are all around us: III-V, II-VI, nitrides, advanced oxides and others, generate true revolutions in several industrial and consumer fields like micro- and power electronics, lasers, detectors, solar or displays.
Boosted by the Internet of Things and cloud's use, they are extensively used in datacenters, to process information at the speed of light, with photonics devices.
Also in the photonics field, medical applications benefit from the rise of compound semiconductors : medical sensing or fine surgery experience innovative practices with newly available lasers, such as in the industry, where they are core components for metal cutting machines.
Widely used in defense and security applications, for communications, optical detectors, gas sensing, and tomorrow, quantum computing, the future of compound semiconductors is promising, not only for industrial fields.
Step by step, they are also changing our everyday life: embedded in our smart vehicles, with LIDAR sensors, in our screens, with high efficiency microLEDs or virtual reality devices, or in our smartphones. They make 3D sensing and face recognition possible, thanks to new VCSELs generation, they push broadband communication towards 5G and 6G thanks to high speed radiofrequency (RF) components.
Riber's portfolio at a glance
Riber is the world's leading supplier of MBE products and services. We produce the industry's broadest range of research and production reactors, and provide support and maintenance for more than 900 MBE systems located all over the world.
At customers' side, Riber offers three main products lines to explore all compound semiconductors' megatrends: MBE reactors, MBE cells, accessories and service and OEM sources.
The MBE tools portfolio ranges from highly capable research reactors, used by the leading research centers all around the world, to far larger production machines, which are operating in many of the world's leading compound semiconductor foundries, with the lowest cost of ownership.
Riber's cells and accessories deliver a wide range of high-quality products to equip and enhance capabilities of MBE reactors, while our experienced service team provides advanced technical support, equipment upgrades and reactor maintenance to our users.
OEM sources can be used by machine makers and integrators to produce thin-film solar cells, like CIGS or perovskites cells, and OLED displays for TVs, smartphone, tablets, watches,….
To ensure efficient answers to customers all around the world, Riber provides support from its headquarters in France and additional offices in the USA and Asia.
History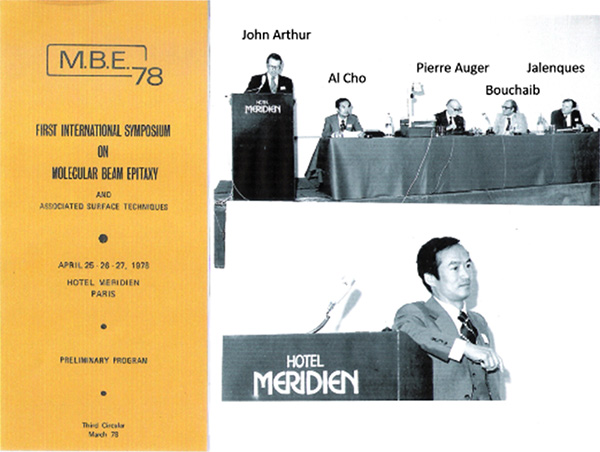 Riber's development of MBE systems can be traced back to 1976, twelve years after the company was founded, when its expertise in state-of-the-art, ultra-high vacuum equipment helped academic pioneers to build the first-ever MBE deposition systems. Riber quickly grasped the tremendous potential that these growth tools had for revolutionizing the production of optoelectronic and electronic devices. Within two years, it had launched the world's first 'turnkey' MBE system, in partnership with Professor and future Nobel Prize Al Cho, who demonstrated the need for a high purity growth technique to create AlGasAs high electron mobility transistors (HEMT).
Following on from this milestone in 1978, Riber developed and refined many key technologies for improving MBE reactor performance. The product portfolio blossomed from the MBE 2300 to the Compact and Epineat series, and in the 1990s Riber launched the world's first high-throughput production reactor, the MBE 49 followed in the early 2000s by the biggest mass production systems MBE 6000/7000.
In addition, it has diversified its product range, with the acquisition of the French components manufacturer Addon in 2004 (RF plasma sources, valved cells for corrosive materials, cells for solar & OLEDS applications).
In 2008, Riber strengthened its leading position by acquiring MBE systems manufacturer VG Semicon and keeps on servicing and upgrading VG reactors all around the world until now.
Riber launched MPVD300 in 2009, a thin-film, SEMI-compatible, evaporation system which enables to manufacture next-generation silicon chips.
In 2010, Riber has started to address one of the biggest problems facing manufacturers of copper indium gallium (di)selenide (CIGS) thin-film solar cells: a high-growth rate, precisely controlled selenium source. Riber also developed dedicated effusion cells integrated in the production lines of OLED manufacturing plants.
Riber continuously improved and developed its portfolio the following years, with the birth of MBE412 in 2011 (designed from the acclaimed Epineat platform), then its research flagship reactor Compact 21 DZ (2013), the acquisition of MBE Control Solutions in the USA (2015).
The past 2 years have seen the installation of a production MBE 49 reactor, dedicated to GaN growth (2018), in collaboration with the CRHEA research center (France), the introduction the introduction of the MBE8000 "super-reactor", enabling to grow up to 6 x 8'' wafers simultaneously, specially designed to obtain the highest performance VCSELs lasers (2020) or the launch of in situ curvature instrumentation EZ-CURVE, to further move towards Smart MBE (2020).
These are our last significant milestones… for now ! The story goes on !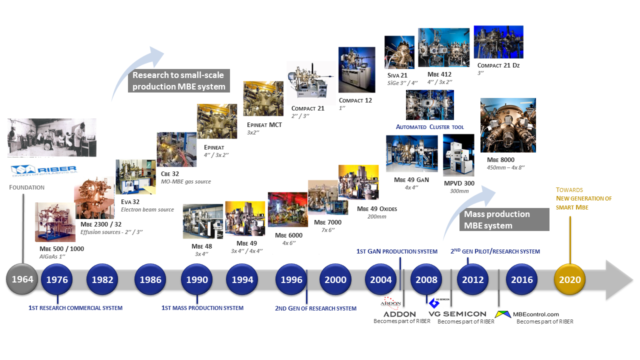 Our expertise
Riber's organization directly reflects the high level of expertise that our company reached, in the whole value chain, from design to manufacturing, from sales to service and process knowledge, backed by its 45 years' experience in the MBE market. We have all core competencies to build best-in-class MBE equipment in house.
R&D & design office
Our R&D and design office gather several engineers with various skills, from mechanics, automation, software, prototyping and simulation, especially focused on UHV and thermal physics.
Our drivers are our users' drivers: we constantly focus on delivering solutions for best process stability, epilayers quality and minimizing non-process times.
They constantly seek for high vacuum, high uniformity, low-defect density and maximum flexibility components. Parts are designed for easy service and with enhanced automation. Our Methods department ensures that materials, manufacturing and testing procedures are defined in accordance with the final process requirements.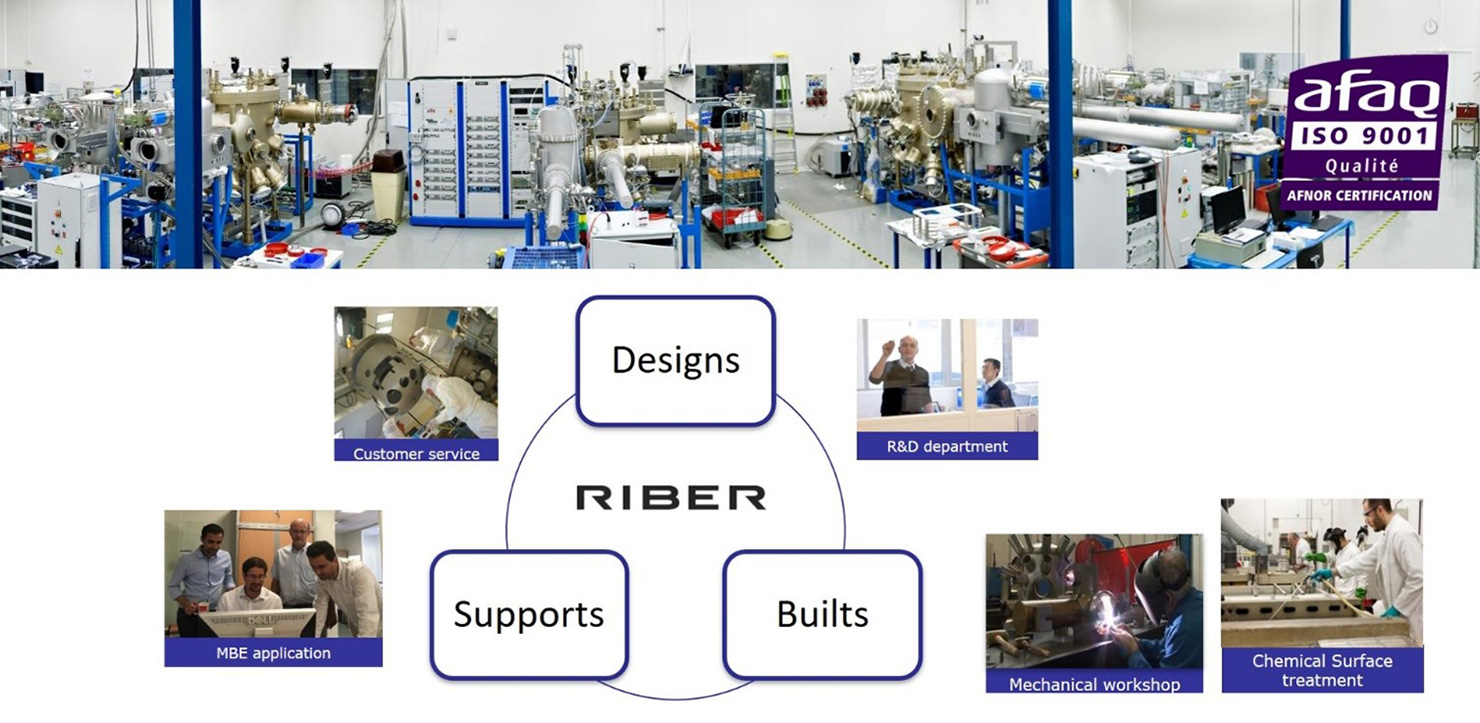 Manufacturing workshops
Not only we design but we also build these reactors and components in our factory in Paris. All necessary workshops are available in house : surface treatment to guarantee UHV quality, mechanical workshop to machine UHV materials and metals, components hall, where cells and accessories are built, and finally systems platform, where complete reactors are assembled and external components are integrated. We also have prototyping and tests capabilities to try new concepts inspired by our users. Our technicians follow a system from the first components assembled until the final installation on user site, guaranteeing a perfect knowledge of your MBE reactor.
Sales and support
Riber also manages a complete network of sales and support all around the world: we have long-lasting partnerships with our experienced representatives all around the world and have reinforced local support with our subsidiaries in the USA and China, in addition to our sales team based in Paris.
Our service team is definitely an added value of Riber; it relies on the advanced expertise of our technicians in mechanics, electronics & automation of equipment working in UHV conditions. Their know-how is linked to managing, performing and following-up, mainly in contaminated environment:
Preventive or corrective maintenance, on user's site
On site or factory repairs
Assistance to load materials
Equipment restarting tests, bakeout installation, new components configuration,…
Lastly, Riber is also recognized in managing MBE process, thanks to our application laboratory. They have various missions : assistance to start reactors, performing layers contractual specifications, equipment or process failures analysis, advices for the use of the equipment, helping to program epitaxy recipes,…
Our application lab engineers are specialized in different compounds semiconductors growth in line with Riber main markets: III-V materials (AS, P, Sb), II-VI materials & MCT, GaN, Oxides, SiGe,…
Their skills relates to setting up process solutions, with respect to each material specificity, working environment, desired performance and layers, accounting for safety rules given by our users:
Growth preparation:

Bakeout, degassing, calibration

Growth conditions:

Bursts and transients management
Defects minimization
Pre/post-treatments recipes
Working temperatures,…

Safety:

Safety recipe advice
Hg or P recovery procedures,…
All these core competencies, raised to a high level of expertise and gathered into a single team, makes Riber a unique and specialized actor on the MBE market.
Our Values
Valuing our users' feedback
We, at Riber, constantly try our best to stay close to you, our users. We value partnerships and feedbacks, which help us to improve our products, our process and organization, our global quality and above all, your satisfaction. At your sides since the beginning of MBE, we know your ideas are inspiring and we are proud to be part of this large MBE community, with you for 45 years.
Meeting our commitments
MBE projects are often long term and several milestones may be necessary to achieve success. When you choose Riber to work on your projects, all our teams will strive to meet the commitments we took for you. May it be long or complex, no limit to our efforts, we'll provide a complete and operational solution as agreed: your trust is a reward.
Ensure our products & service excellence
Meeting and exceeding expectations, this is an everyday concern for our teams: safety, quality & reliability are our motto.  Highly tested products, state of the art solutions, zero defect deliveries, trusted suppliers: we all know these are not easy tasks to achieve, but we work hard for this to be more than words.
Access Riber's ISO 9001:2015 Certificate