And a second one !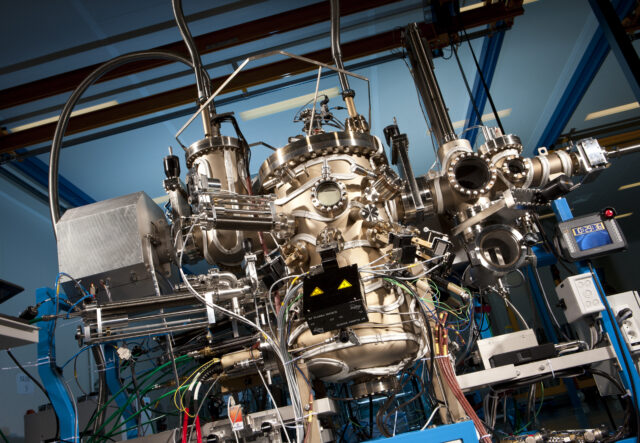 New order for RIBER ! It is once again a C21 that will complete the machine portfolio of the CRHEA research laboratories.
Recognised worldwide for its expertise in the epitaxy of semiconductor materials, the laboratory has ordered a Compact 21 research MBE system to reinforce its research capabilities on emerging semiconductor materials. The system will be dedicated to the growth of 2D materials including transition metal dichalcogenides and nitrides. The acquisition of this new equipment was made through the NANOFUTUR Project funded by the Programme d'Investissements d'Avenir (PIA), managed by the Agence Nationale de la Recherche (ANR).
Mr Philippe BOUCAUD, director of the CRHEA, explains : "The new Compact 21 will enable us to strengthen our position in the epitaxy of 2D materials. We plan to connect it to a CVD system to make it an original equipment for the epitaxial production of various van der Waals heterostructures. This new cluster tool is financed by the PIA3-Equipex + NANOFUTUR project led by the RENATECH network piloted by the @CNRS. It is also part of the France 2030 electronics strategy through the Electronics Acceleration Programme and Priority Research Equipment. It will enable us to provide the national community with a new source of high-quality 2D samples.
Our laboratory already has several Compact 21 research systems that have proven to be very versatile and capable of producing very high quality semiconductors in multiple fields. Compatibility between the systems is essential for us, as is the high level of support provided by RIBER's after-sales service in operating the reactors. With RIBER, we also have the possibility of moving to larger substrate sizes up to 8 inches, which strengthens our compatibility with the industrial ecosystem.
The latest advanced real-time monitoring features that are integrated on the new system for epitaxy control through RIBER's Crystal XE supervision software are particularly noteworthy and are a very effective way to accelerate our research."
As well as further demonstrating the commercial success of the Compact 21 range, the world's best-selling research MBE system, this order highlights the suitability of the Compact 21 for the ever-expanding 2D materials research market.
For more information on the Compact 21, click on the following link : https://lnkd.in/egM_SQik
Finally, to access the RIBER financial statement, click on this link : https://lnkd.in/e3tdYhCH
Posted on Thursday, July 28, 2022 - 12:08 pm