Time for innovation !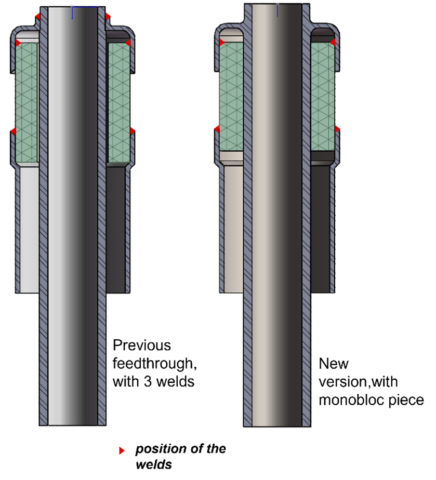 RIBER is pleased to announce a new step in our feedthrough technology. After a lot of work, research, study and development it is finally ready and available !
RIBER's innovation consists in a new design of UHV power feedthrough. The main improvement lies in the reduction of the number of welds thanks to the use of monobloc parts and in an adapted design of these monobloc parts (more round angle).
Feedthroughs are an essential part of UHV (Ultra-High Vacuum) components such as MBE effusion cells or manipulators. These feedthroughs allow cables to be connected to the outside of the component, in the ambient air, to deliver electrical power to the internal heating filament, which is under UHV conditions. As interfaces between UHV and ambient conditions, feedthroughs must have a very good seal to allow high-speed pumping of the chamber and maintain UHV conditions. They must also be mechanically robust to prevent failure that would lead to leakage.
For more information on this innovation, including the benefits of this new technology, click on the following link : https://lnkd.in/efrim2k3
Step by step, we build the future of MBE !
Posted on Monday, September 26, 2022 - 13:50 pm