Carbon cell
Details
Enable to obtain holes concentration from 1018 to 1020 cm-3 in GaAs
Compatible with existing solid sources MBE systems
Up to 2100°C operating Temperature range with long lifetime
Excellent Uniformity
Rapid flux variation
Simplicity of operation
Easy exchange of PG filament
Presentation
The carbon sublimation doping cell is used for carbon doping. The flux of carbon is generated by sublimating a high purity Pyrolithic Graphite filament. The Pyrolithic Graphite filament is heated up by direct flow of high intensity current. The region surrounding the filament is made out of the same PG material to guarantee the high purity of the carbon flux.
In normal operation, the filament is heated up in the range of temperature 1700°C-2100°C. The low thermal mass of the filament permits to change rapidly the doping levels. The filament emission area gives an excellent lateral uniformity for 2" and 3" substrates. The Filament surrounding is built in high purity Pyrolithic graphite to prevent any cross contamination due to outgassing.
The source can be customized in order to fit on a large variety of vacuum systems. Electrical feedthroughs are water cooled in order to stand the current density applied to the source.
Layout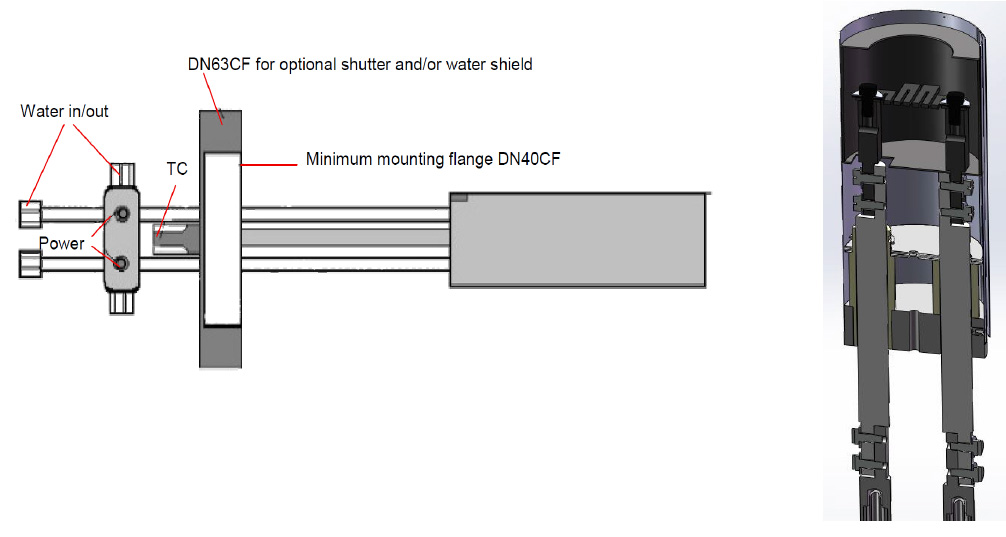 Technical information
| Cell characteristics | Carbon cell |
| --- | --- |
| Filament | Single high purity carbon (PG) |
| Capacity | 800h @ 0,5Å/min // 10E19 cm-3 |
| Mounting flange | CF 40 |
| Water-cooled feedthroughs | Yes |
| Water flow | 2-7 bar / 0,3 L/min |
| Thermocouple | C-type |
| Typical operating temperature | 1900°C (~72 A) – 2100°C (~80 A) |
| Maximum outgassing temperature | 2300 °C (~100A) |
| Power consumption | 1500 W |