Heated insert cell for Ga & In – ABI
Details
Large loading capacity from 85cc to 3000cc
Higher stability than any other effusion cell
Lowest growth defect density compared to any other effusion cell
Wafer growth uniformities improved by factor of up to 3
Reduced flux transient
Reusable insert
Presentation
The Riber ABI effusion cell is designed to produce stable purity molecular beams.
The ABI cell relies on the concept of a cylindrical crucible with a self-heated beam-shaper insert on top. This unique design enables extended campaign durations – 4 times higher loading capacity than conventional conical crucibles and large ingot loading (reduced source material oxidation and increased material quality).
It is specifically adapted for the growth of epitaxial layers of medium vapor pressure materials.
ABI cells perform with a very high reproducibility, with excellent run-to-run stability and long-term flux stability – less than 1% variation over 40 h
ABI give improved epilayer quality compared to standard conical cell, with best in class uniformity – better than 1.5% – and low defects density. The flux transient is also reduced to less than 2%.
The insert has been carefully engineered to improve the flux stability over the load consumption, while maintaining excellent uniformities of thickness and composition. The design also enables to get the same evaporation surface over time. The insert is reusable.
It is heated on the conical section and on the lip in order to prevent condensation and droplet formation or cross contamination, thus reducing "oval defects" observed in GaAs growth with other technology.
Flexible operating conditions are obtained with independent temperature control of the insert filament.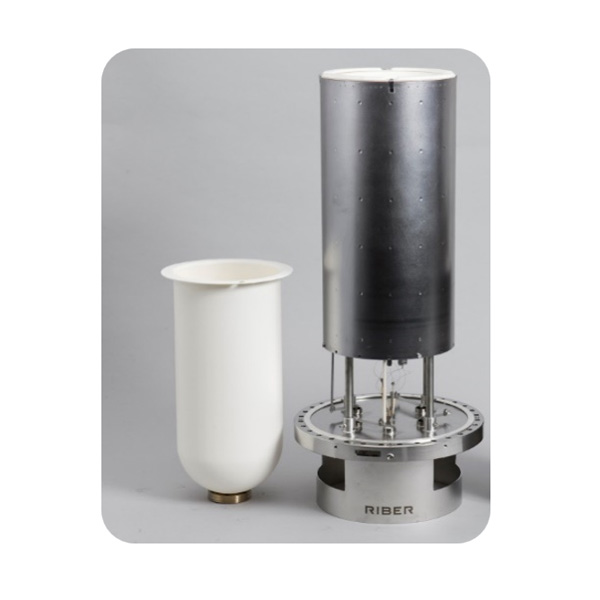 Layout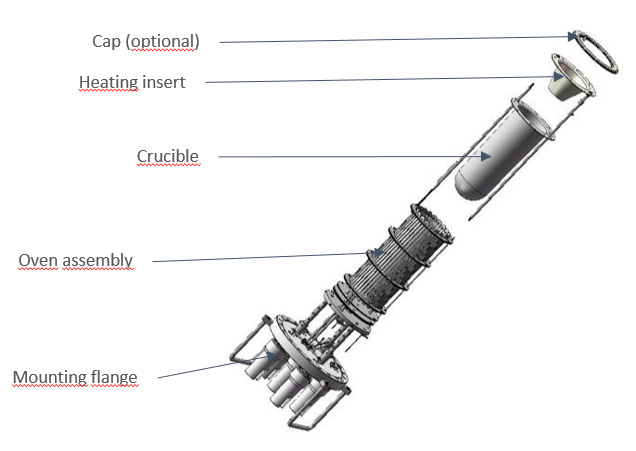 Technical information
Cell characteristics
ABI 85
ABI 500
ABI 800
ABI 1000
ABI 3000
Filament
One
One
One
One
One
Heating zone
Two
Two
Two
Two
Two
Heating filament
Ta wire
Ta flat heater
Ta flat heater
Ta flat heater
Ta flat heater
Heated insert
PG resistive track encapsulated in PBN
PG resistive track encapsulated in PBN
PG resistive track encapsulated in PBN
PG resistive track encapsulated in PBN
PG resistive track encapsulated in PBN
Insert Thermocouple
1 x C-type
2 x C-type
2 x C-type
1 x C-type
1 x C-type
Crucible thermocouple
1 x C-type
2 x C-type
2 x C-type
1 x C-type
1 x C-type
Crucible
PBN
PBN
PBN
PBN
PBN
Mounting flange
CF63
CF100
CF100
CF150
CF200
Typical operating temperature (Ga @ 1 µm/h) – insert / crucible*
Insert: 1000°C / Crucible : 950°C
Insert: 1050°C / Crucible : 950 °C
Insert: 1050°C / Crucible : 950 °C
Insert: 1050°C / Crucible : 950 °C
Insert: 1000°C / Crucible : 950 °C
Max. outgassing temp. (empty cell) – insert / crucible*
Refer to QCS
Refer to QCS
Refer to QCS
Refer to QCS
Refer to QCS
Temperature stability
< ± 0.5 °C
< ± 0.5 °C
< ± 0.5 °C
< ± 0.5 °C
< ± 0.5 °C
Power consumption crucible (Ga 1 µm/h)
140 W
300 W
500 W
600 W
1100 W
Power consumption  for insert (Ga 1 µm/h)
230 W
400 W
1000 W
1600 W
2800 W
Max. Current in Insert
Refer to QCS
Refer to QCS
Refer to QCS
Refer to QCS
Refer to QCS
Crucible – Power supply
60 V – 12.5 A
GEN 150 V-16 A 1U 1P
GEN 150 V-10 A 1U 1P
Alim GEN100 V-24 A 1U 1P
GEN 400 V – 25 A 3U 3P
Insert – Power supply
60 V – 12.5 A
GEN 80 V-30 A 1U 1P
GEN 80 V-30 A 1U 1P
Alim GEN100 V-24 A 1U 1P
GEN 200 V – 25 A 2U 3P
Power output connector
1 x SPC-4
1 x SPC-4
1 x SPC-4
4 x RTMI
2 x SPC-2+
Thermocouple connector
2 x HMPW-C-N
4 x HMPW-C-N
4 x HMPW-C-N
2 x HMPW-C-M
2 x HMPW-C-N
Integrated water cooling*
On request
On request
On request
On request
Flange cooling
Water connection*
SS-4M0-6
SS-4M0-6
Contact Riber
SS-4M0-6
SS-10M0-6-8M
Power Cable
1 x Cord Cell BK-SW-Ø8-8-23-SPC-2
1 x Cord Cell BK-WTL-Ø8-8-23-SPC-2
1 x Cord Cell BK-SW-WTL-Ø 8-11-23-SPC-4
1 x Cord Cell BK-SW-WTL-Ø 8-11-23-SPC-4
1 x Cord Cell BK-WTL-Ø 8-11-55-WTL-Ø 6
2 x Cord BK-WTL-Ø 8-46 A-SPC2-CF35
Thermocouple cable
2 x Cord cell BK-HMPW-C-F-11-C
2 x Cord cell BK-HMPW-C-F-11-C
2 x Cord cell BK-HMPW-C-F-11-C
2 x Cord cellBK-HMPW-C-F-11-C
2 x Cord Th BK-HMPW-C-F-11
*For some versions and systems adaptations, water cooling may be necessary