Heated Viewports
Details
Control unit with ability to manage 1 to 4 windows simultaneously
Prevents condensation of materials on the viewport
Available on CF40 or CF63
Single power supply for two viewports
3 temperature range, fully automatic
Constant visual access inside the growth chamber
Presentation
To protect a viewport from deposition is possible via a shutter, a gate valve or a heated viewport. However, even when using a shutter or a gate valve, you slowly get deposition on your viewports until it gets completely opaque.
When using in-situ monitoring for real-time control of crystal growth, shutter or gate valves must be opened and viewport should be protected against deposition to remain usable.
The Riber Heated Viewport RHVP prevents deposition of materials on your optical viewports and enable continuous and in-situ monitoring of your crystal growth in your MBE chamber. No need to vent the system for removing or cleaning your viewport anymore !
The 3 range of temperature allows the viewport to be used in different MBE system (III-V, II-VI, etc.) The Heated Viewport prevents deposition on your viewport and avoids having to vent the system for removing or cleaning them. A standard UHV viewport, standing behind the RHVP, is needed to ensure UHV conditions.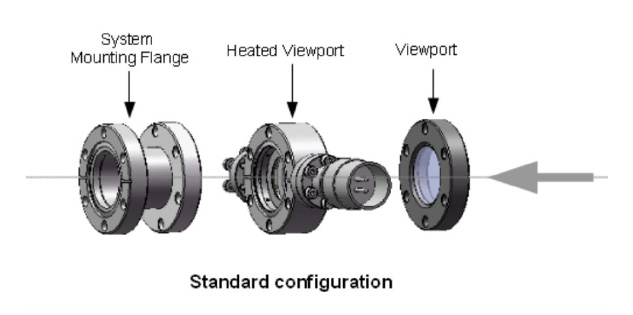 Layout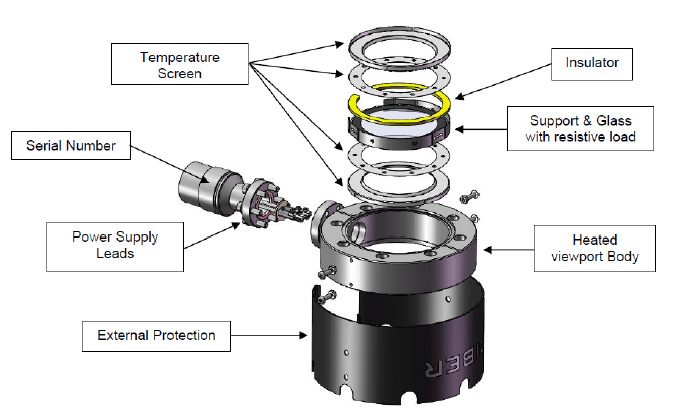 Technical information
Characteristics
RHVP-40
RHVP-63
Flange
Two Sides CF40 (2.75")
Two Sides CF63 (4.5")
Transmittance* >80% (nm)
300 – 4500
Viewing diameter (mm)
Ø26
Ø54
Maximum recommended continuous operating temperature
280°C
Window material
Sapphire
Birefringence (Sapphire)
-0,008
Max Viewport temp. @ Max RHVP temp.
<60°C
Typical Operating in III-V
200°C
Bakeable at 250°C
Yes
Typical heating speed (W/hrs)
3
6
Electrical specifications
Electrical requirements
85-265VAC
Max power
20W
60W
Accessories and options
Viewport (leak tight)
Zero Length Viewport RVP40 (Glass)
Zero Length Viewport RVP63 (Glass)
Power supply programmed by RIBER with heating ramps
DC36V – 6A
Can power up to 4 heated viewports
DC36V – 6A
Can power up to 2 heated viewports