In & Ga Graphite-crucible cells for Nitrides – MS
Details
High loading capacity
Excellent flux stability
Outstanding uniformity
High reliability, durability and low maintenance
Cost effective solution – made to last
Re-usable crucibles
Presentation
The Master Source benefits from a technology which consists of a specific crucible design combining high performance with low operating and maintenance costs. The ultra-pure beam of stable flux is a result of the MS crucible concept.
Crucibles are made of Pyrolytic Graphite, that is not wetted by Ga or In which guarantees a very low defect density. These cells are preferably used for Nitrides application, where In & Ga usually tend to overflow under nitrogen atmosphere with a PBN crucible. Conversely, graphite crucible may induce unwanted C doping that could disturb mobility in usual III-V applications.
The nominal capacity of the Master Source varies from 25 cc to 5800 cc, for research applications to production. The Master Source is the optimal cell technology for the evaporation of materials with low and medium vapor pressure. It is used for elements III, but also allows the evaporation of more exotic materials like Ag, LiF, CdTe, etc.
The MS crucible is designed in two parts: the reservoir containing the material, and the effusion nozzle screwed into the reservoir. The removable nozzle of the MS crucible is shaped in such a way that it gives better uniformity and an optimal utilization of the material on the wafer.
The cylindrical reservoir shape maximizes the capacity of the crucible and allows the loading of a single shaped piece of material. The use of a shaped charge helps to reduce surface contaminations and results in high layer performances. The nozzle shape defines the spatial distribution of the flux.
The innovative design permits a narrow or wide flux beam, governing material consumption and defining uniformity criteria for the geometry of each system.
Layout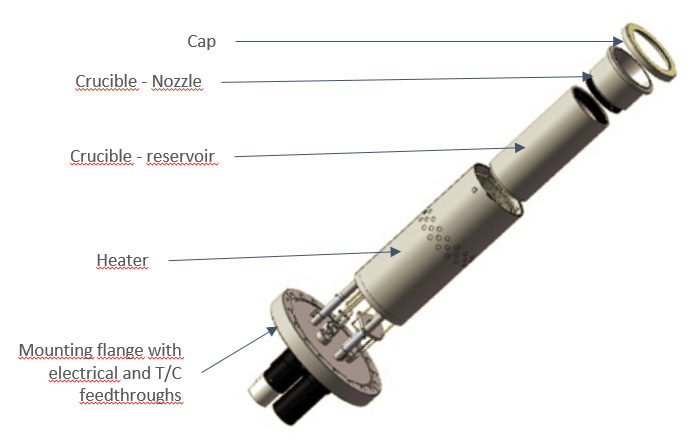 Technical information
Cell characteristics
MS 240
MS 440
MS 540
MS1640
MS4000
Source capacity
40 cc
85 cc
130 cc
380 cc
400 cc
Mounting flange
CF35
CF63
CF100
CF125
CF150
Temperature stability
± 0,2°C
Crucible shape
Cylindrical
Crucible material
Pyrolytic graphite
Filament type
Dual Ta wire
Thermocouple type
2x C-type
Typical operating temperature*
100 – 1150°C
Maximum outgassing temperature
1350°C
Power required for maximum temperature
250 W
400 W
850 W
900 W
3 600 W
Power supply
Two power supplies / Two temperature controllers
*For some versions and systems adaptations, water cooling may be necessary and would require upsized flange