MCL – Mercury « constant level » Cell
Details
Field proven technology for over 30 years
Large mercury capacity
Refill without breaking growth chamber vacuum
Constant flux for hours
Run to run compositional reproducibility
Easy to use, allows bakeout operation
Presentation
Riber Mercury cell, model MCL allows the growth of thick MCT layers with precise control in composition for Infra-Red devices. MCL source provides a constant mercury level in a conventional cell configuration, connected to a large reservoir. Gravity keeps constant the level of mercury between the cell and the reservoir. A sensor located in the effusion cell allows to adjust the level of Mercury by mean of the reservoir motion. The large difference between the surface area of the Mercury in the cell and in the reservoir, does not require to move the reservoir during the growth.
Growing 10µm of MCT epilayers at 200°C only requires 1mm of mercury level in the cell. With the level sensor, Mercury level is easily returned to its original pre-calibrated level for the start of each new growth.
Precise control of the cell temperature combined to the Mercury level setting enables an excellent flux stability and reproducibility. The cell is also designed to have a rapid thermal response to temperature changes, for rapid flux variations. This feature is especially useful for applications which specifically require graded doping and composition
Working principle
The RIBER constant level Mercury effusion cell consist of two parts:
– The evaporator, located inside the growth chamber.
– A mercury reservoir, external to the growth chamber, mounted on a vertical translation device.
A Mercury circulation system connects the two parts.
It is based on the communicating vessel principle: displace the reservoir on the vertical translation device causes a change of mercury level in the cell.
This system permits to adjust the mercury level in the cell for evaporation, by a vertical external reservoir movement.
During evaporation, when the reservoir is in a fixed position, a level change of 1 mm corresponds:
– to the evaporation of 11.30 cm3 of mercury for MCL 160.
– to the evaporation of 37.30 cm3 of mercury for MCL 190.
Layout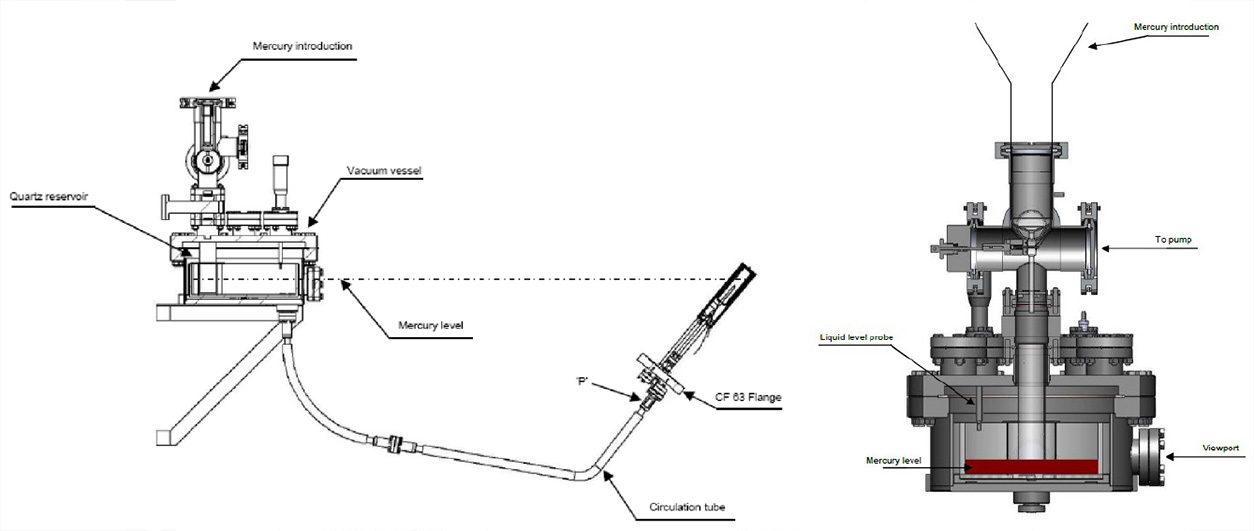 Technical information
Characteristics
MCL 160
MCL 190
Filament
Flat Ta filament
Mounting flange
CF40
CF 63
Reservoir capacity
1100 cc
3700 cc
Reservoir material
Quartz
Pressure operating range
10-12 – 10-13
Maximum pressure
10-3 Torr
Crucible material
Quartz
Typical operating temperature
80-110°C
Maximum outgassing temperature
700°C
Temperature stability
0,2°C
Power supply
One power supply / One PID
Mercury reservoir level adjustment
Manual lift platform
Motorized lift