Process Control Software Crystal XE
Details
Real-time control of the entire MBE process
Easy to implement, operate and upgrade
User-friendly graphical interface
Windows 10-based operating system
More than 250 units in operation
Direct access to technical support
Presentation
RIBER Crystal XE is a powerful and complete process control solution designed for the real-time supervision of MBE research and production machines.
This graphical and interactive automation tool, based upon industry-standard operating systems, provides continuous information during the entire process, from equipment configuration to growth data acquisition, storage and processing.
Crystal XE is the culmination of 30 years of experience in MBE, PVD and CVD software.
It also features an advanced development interface allowing the final user to create his own automation with additional equipment, custom forms, charts and data acquisition.
Not a Riber system?
You are not using a Riber or VG system or you are using homemade / Amber / others software to control your MBE ?
Don't worry, we can install Crystal XE state of the art MBE control software on a large variety of MBE machines.
If you are looking to enhance your growth capacities :
– Scripting your recipes,
– Continuous acquisition and monitoring,
– Most flexible integration of instruments or equipments – more than 100 devices already existing in Crystal
Riber is offering Crystal XE and its Crystallizer Interface to convert your machine to Crystal XE.
Interested ? Contact your sales rep to review your configuration and move on.
Key features
Crystal XE really make Smart MBE possible with :
Real time control & adjustment of growth recipes upon user-defined conditions
Advanced system flexibility over equipments and communication protocols
Advanced system monitoring & events recording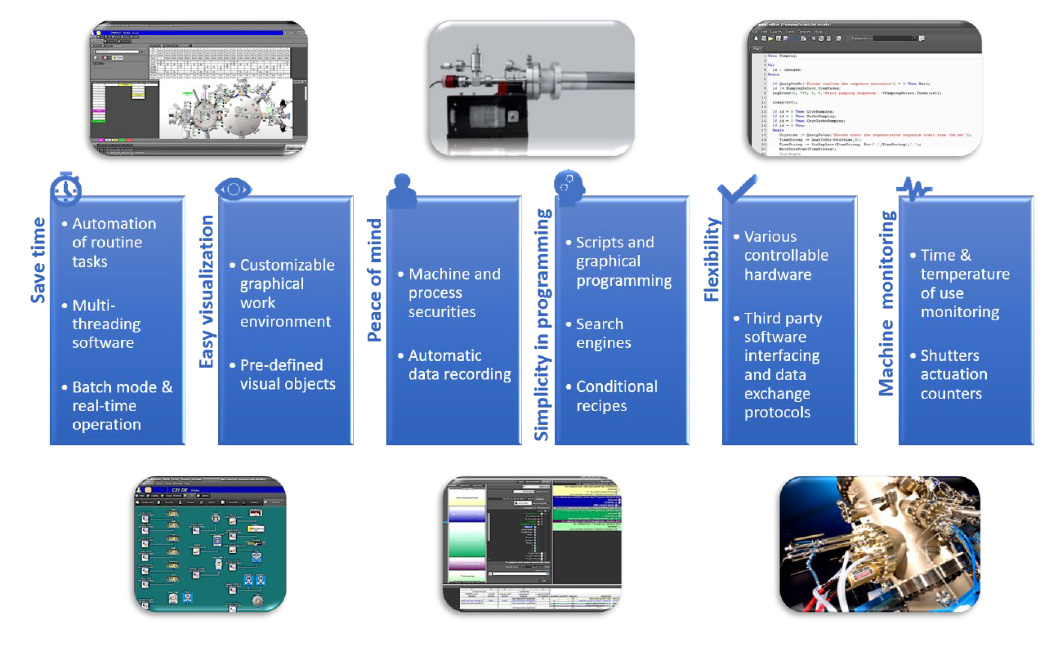 License & maintenance fees
Designation
Features & benefits
CRYSTAL XE License
Offers the full benefits of state-of-the-art MBE software to control and monitor your MBE system
Easy upgrades from previous Crystal versions (5/7/8) & Recipe transfer ability from previous Crystal versions
Compatibility with the newest accessories & easy driver development for non listed controllers
Requires Annual maintenance contract fees to be updated with the most recent releases
Annual maintenance contract for Crystal XE license
This contract ensures the constant access to the latest Crystal XE version, including bugs corrections, new equipment, advanced scripting functions,… It also includes a priority access to Riber hotline for troubleshooting and remote assistance
Without maintenance contract, your Crystal XE license is valid, but no updates and bug corrections would be available for your daily use
Hence, when a customer buys a Crystal XE license, there is a one year "warranty" to inform Riber about new bugs correction. Once out of warranty, any bug fixing or new feature availability can only be accessed through annual subscription of the annual maintenance contract, invoiced every year,
If annual contract has been cancelled, in order to re-enroll, penalty fees may apply in addition to previous years payback.
Dedicated website and documentation
For additional & detailed information, please visit:
Free trial versions
Dedicated user access "My Crystal XE", with your system configuration saved
Detailed manuals (Software, developer kit, cloud & mobile,…) & presentations
Register for our newsletter and purchase your license & maintenance fees