Safe SubSystem Process Controller – S3PC
Details
Modular and configurable controller
Supplied with a user-friendly Graphical User Interface with pre-configured programs (VNC)
Can control :
– Up to 5 Cells or Sources
– Up to 16 Temperature PID loops
– Up to 24 Shutters
– Up to 3 Drivers motor regulation valve
– Many other equipment with dedicated extension modules
Presentation
The S3PC is a modular PLC (Programmable Logic Controller) integrating the most advanced state of the hardware technology. The S3PC can control multiple cells or sources including their power supplies, shutters, temperature regulation and motorized process valve.
The standard S3PC Kit hardware configuration includes :
A communication module RS422/485 for communication to power supplies
2 x PID channels for temperature regulation
6 x Digital Output 0-24V/0.5A for pneumatic shutter or valve control
6 x Digital Input 0-24V for interface with other PLC.
Based on customer projects, cards can be added to increase the number of sources to control, and allow the control of DC motor for valved sources, heaters, quartz monitor, flux gauge, etc.
The S3PC is designed to control up to 5 sources and a maximum of 6 heating zones per source.
It has a dedicated Graphical User Interface (GUI) that is available from a Virtual Network Computing (VNC) or from a dedicated touchscreen (optional) for a complete stand-alone solution.
The S3PC can be controlled remotely by a master process controller via the Modbus TCP IP protocol.
User friendly interface & control panel
Pre-configured macro-programs for heat up, cool down, stand-by, outgassing, customizable.
Shift from one cell view to another.
Displays power, T/C temperature, valve position, etc.
Optional touchscreen
VNC viewer from any device: computer, touchpad, smartphone
Layout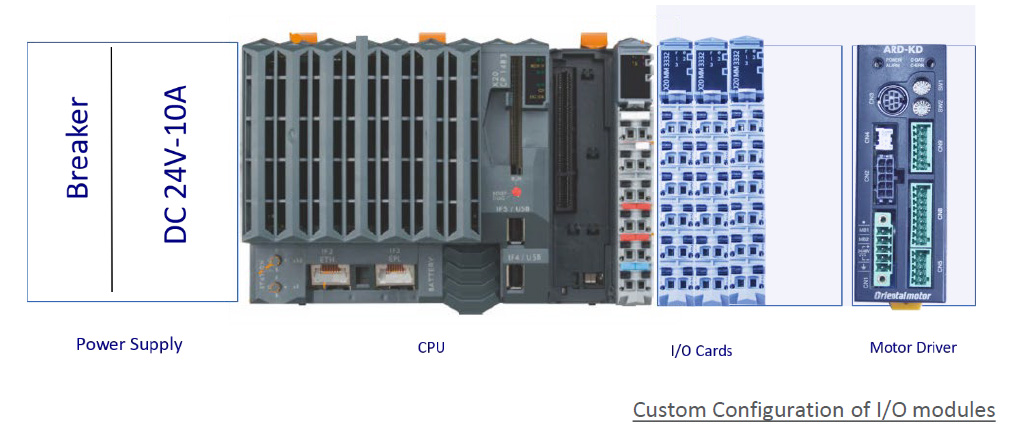 Technical information
S3PC characteristics
Rack (WxHxL)
19 ''- 3U – 180mm
Embedded power supply
24V DC -10 A
CPU
X20 256 MRAM 1MSRAM + 512 MB compact flash
Input voltage
100/240 VAC
Remote supervisor communication protocol
Modbus TCP
Sub Network supported communication protocols
X2X (B&R I/O cards)
RS485/422 (TDK Lambda Power supplies)
Modbus TCP (Eurotherm power controllers)
Modbus RS485 (Oriental motor)
Others upon request
Touch panel
Optional
S3PC standard configuration – hardware modules & cables
Intercom RS422/485
Communication to power supplies
Isolated Thermocouples / ITC
1 module / 2 channels – Temperature sensors
Digital Input (0-24V) / DI24
1 module / 6 channels – security relays, interface with other PLC, etc…
Digital Output (0-24V – 0,5A) / DO24
1 module / 6 channels – Pneumatic shutters, electro valves,…
Cables
1x Ethernet cable – Communication to PC or touch pad – Length: 5m
1x RS485/422 – RJ45 – Power supply communication cable – Length: 5m
| S3PC standard configuration – other available modules* | |
| --- | --- |
| Isolated Thermocouples / ITC | Up to 8 modules / 16 channels – Temperature sensors |
| Digital Input (0-24V) / DI24 | Up to 4 modules / 24 channels – security relays, interface with other PLC, etc… |
| Digital Output (0-24V – 0,5A) / DO24 | Up to 4 modules / 24 channels – Pneumatic shutters, electro-valves,… |
| Analog Input (+/- 10V) / AI10 | Up to 4 modules / 16 channels – Flux gauges, baratrons, quartz monitors, MFC, Optical detectors,… |
| Analog Output (+/- 10V) / AO10 | Up to 4 modules / 16 channels – Analog remorte power supplies,… |
| Relay Output (115VAC-0,5A) / RLY | Up to 2 modules / 12 channels – interface with other PLC, securities, water switch,… |
| DC Oriental motor driver (24V) / Motor | Up to 3 modules / 3 channels – Valve motor for KPC, VCOR, VAC,… |
| DC motor communication / M485 | Up to 1 module/ 1 channel – Communication with motor driver / works with one or more DC Oriental motor drivers |
*Limitation in number of modules is only due to available space in the rack