Titanium Sublimation Pumps
Details
Extra high pumping speed for getterable gases
Can be installed inside an ion pump – PEG version
Compatible with all MBE systems
Very clean – no contamination introduced into the system
Many years of use before reconditioning
Can be mounted vertically or horizontally
Presentation
Titanium Sublimation Pumps (TSP) are used to pump getterable gases such as hydrogen and nitrogen.
TSPs are often combined with an ion pumping system, offering an extra-high pumping speed for getterable gases. The TSP can be added inside an PI ion pump, giving the PEG model, or as a separate unit TSP (usually used in Riber MBE pumping wells for instance).
Getter pumping is performed by depositing titanium, which has been sublimed from the surface of Ti filaments heated by an electrical current, onto cooled surfaces.
This effect is generated periodically (intermittent pumping) to reach very low pressures and enhance the base vacuum.
Pumping efficiency is adjusted by varying the filament heat intensity and the frequency of the operating cycles.
As this titanium sublimation effect is periodical, it is used in addition to a basic pumping, continuously operated, typically ion pumping by standard or rare gas elements.
Riber offers standard exchange of your titanium sublimator ion pump PEG :
– Shorten maintenance time
– Cost effective solution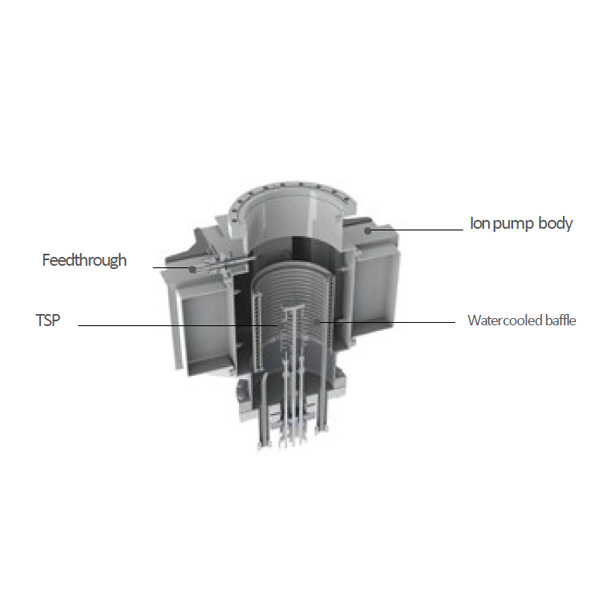 Layout

Technical information
Titanium sublimation
Titanium sublimation pumps TSP4
Titanium sublimation pumps TSP6
Titanium sublimation ion pumps PEG 2000
Titanium sublimation ion pumps PEG 4000
Dimensions A*/B in mm
44 / 322
55 / 320,6
392 / 495,4
392 / 653
Ion pump nominal speed for air
–
–
200 l/s
400 l/s
Operating range (Torr)
–
–
8×10-3 to 10-12
8×10-3 to 10-12
Connecting flange
CF 50
CF 63
CF 150
CF 150
Mass
1 kg
1,3 kg
75 kg
130 kg
Number of pumping elements – filaments (spiral)
4
6
4 (includes a TSP4)
4 (includes a TSP4)
Number of pumping elements – ion elements – 25l/s
–
–
8
16
Operating voltage
–
–
4.8 kV
Maximum bakeout temperature
–
–
150°C with magnet / 450°C without magnet
Number of high voltage feedthroughs – MTHT CF16 *
–
–
1
1