Versatile valved Source
Sb, Zn, Mg, Te, Se, S, CdTe, ZnTe, ZnSe,…
Details
Performance, flexibility, reliability
Highly reproducible flux control
Large dynamic range & closed-to-open valve ratio
From 110 to 3000 cm3 real loading capacity (0,7 to 19 kg of antimony)
Full PBN reservoir and valve for highly corrosive and high vapor pressure materials
Simple charge loading (no valve dismantling)
Presentation
The Riber valved source for corrosive materials,  model VCOR, is a compact valved source dedicated for corrosive or high vapor pressure material evaporation. The 110 to 3000 cm3  loading capacity is fully exploited by  the use of cylindrical charges; chunks or pellets can obviously also be used.
A valve mechanism allows rapid and accurate flux adjustments over more than a decade and shuts off  the flux over more than 3 orders of magnitude by simply rotating  the thimble.
Both the reservoir  and tip filaments may be heated independently. This enables heating  of the vapor outlet while avoiding any material clogging.
Reservoir and  tip thermocouples are embedded  within the oven assembly to allow loading without disconnecting feedthroughs. The loading operation only requires the replacement of a CF63 gasket; the reservoir can be unmounted and loaded with materials, when the valve part remains attached to the growth chamber.
The all-PBN valve avoids the use of Tantalum or other  metals in the path of the process  vapor. The outside body of the  source is water cooled to reduce  overheating. The valve is operated  with an automated position controller enabling a highly reproducible flux control,  intra-day and from day to day.
This controller is also equipped with a patented ProSafe® test for safe operation, enabling a perfectly adapted valve torque , ensuring leak tightness of the PBN valve while preserving the PBN surfaces from excessive stress.
VCOR design ensures an excellent mixed group V composition & uniformities for Sb applications, but also demonstrate very high capability for Mg doping or ZnSe laser facets passivation.
Thanks to its compact design, it can easily be adapted to a large range of MBE systems.
Layout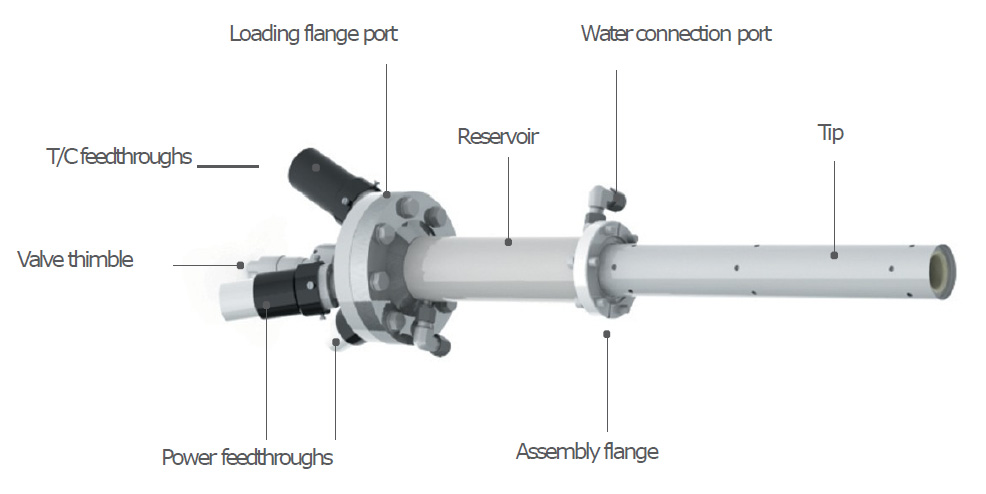 Technical information
Cell characteristics
VCOR 110
VCOR 300
VCOR 3000
Filaments
Two
Heating filaments
Wire
Wire Thermocouple
Double C-type
Crucible / valvematerial
PBN / PBN
Useful capacity
110 cc (Ø20 x 350mm)
280 cc (Ø31 x 370mm)
2 950 cc (Ø95 x 417mm)
Mounting flange
CF 40 (CF63 with water panel)
CF 63 (CF100 with water panel)
CF 150 (CF 200 with water panel)
Reservoir typical operating temperature
450 –550°C
Tip typical operating temperature
750-900°C
Temperature stability
±0.3°C
±0.1°C
Valve Characteristics
Open conductance
2 l/s
10 l/s
85 l/s
Open / close ratio
>1000
Valve actuator
Micrometer
Stem stroke
2 mm – 4 revolutions
2.5 mm – 5 revolutions
5.1 mm – 8 revolutions
Tip Characteristics
Max outgassing temperature
1000°C
Power consumption(Tip @1000°C)
280 W
200 W
880 W
Reservoir Characteristics
Loading port
CF 63
CF 100
CF 200
Max outgassing temperature
750°C
750°C
1000°C
Power consumption (Reservoir @ 750°C)
500 W
450 W
2200 W
Water flow
0.3 l/min – 4 bars max
1.5 l/min – 4 bars max