VHG-500 – Valved Mercury Cell
Details
Excellent flux stability over time
Run to run reproducibility
Range of operational pressures controlled from 1E-4 to 1E-7 Torr
High quality layer
Robustnes
Large mercury capacity
Significant saving in time
Presentation
The Riber VHG source is an evolution of the sources used widely by researchers and producers of Mercury containing epitaxial structures on Compact 21, Epineat, MBE 412 and MBE49 systems.
The new design takes these benefits a step further by further improving the ease of use of the cell and the control of the mercury flux.
The new design allows a sufficiently high volume of mercury to be stored and maintained at constant temperature such that the daily consumption of raw material does not perturb the equilibrium and also maintains the mercury source at constant temperature when the cell is not in use by simply closing the valve. The mercury flux is controlled by a micrometric valve inert to mercury.
The range of operational pressures that can be controlled covers 1E-4 to 1E-7 Torr without difficulty. The design of the "heated stage" further ensures a uniform temperature and thus a stable flux.
The cell dimensions allow process run times of several tens of hours without refilling. The refill of the "heated stage" is made from the "main storage tank" which can hold as much as 10 kgs of mercury.
The refill of the "main storage tank" can be made without breaking vacuum in the growth chamber and in an ergonomic manner.
The robustness and reliability of the design has also been further improved thanks to its all-metal design.
Layout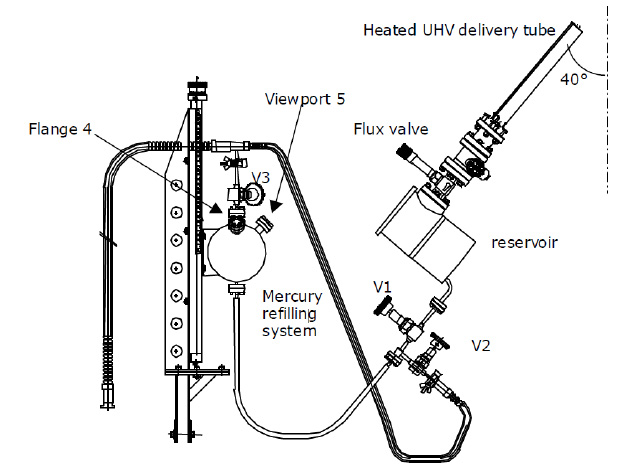 Technical information
| Heated UHV Delivery tube | VHG 500 |
| --- | --- |
| Diffuser | PBN |
| Mounting flange (min) | CF 63 |
| Maximum continuous operating temperature | 300°C |
| Maximum outgassing temperature | 350°C |
| Valve | VHG 500 |
| --- | --- |
| Valve actuator | Micrometer |
| Heater | Heated mantles |
| Maximum outgassing temperature | 300°C |
| Operating temperature | 250°C |
| Automatic valve controller | AVP 6504 or S3PC recommended |
| Reservoir | VHG 500 |
| --- | --- |
| Useful capacity (max load dimensions cc) | 500 cc |
| Thermocouple | Two |
| Maximum outgassing temperature | 180°C |
| Typical operating temperature | 180°C |